Student Uniform Guide​
At Bristol Brunel Academy we believe that students should be dressed professionally in business dress to establish the correct attitude for learning.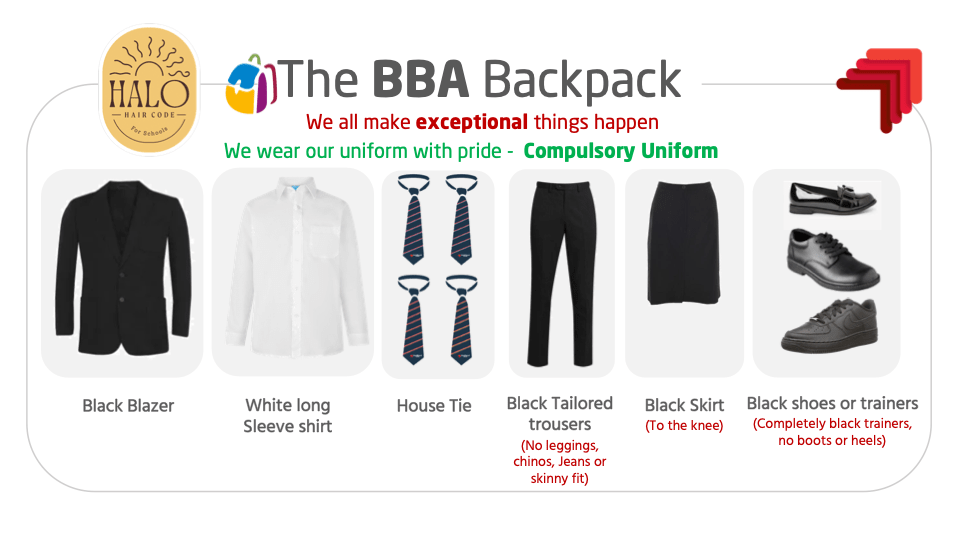 The Academy uniform
Compulsory​
White collared short/long sleeved shirt

​

Plain black blazer

​

BBA house tie – (Only available from BBA, once house has been assigned)

​

Black tailored trousers

(No leggings, chinos or skinny fit)

​

Black skirt (

knee length

)

​

Plain 

black 

shoes (Completely black trainers OK. No heels or boots)

​

Plain black socks/tights

​
Optional:​
Black V neck Jumper – Plain or with BBA logo

​

Black Cardigan – with BBA logo (available from Monkhouse – please see Uniform Flyer for further 

information)

​
PE Uniform
Compulsory:​
Black shorts/tracksuit bottoms (plain or with BBA logo)

​

Red polo shirt (plain or with BBA logo)

​

Red PE socks

​

Trainers (any 

colour

)

​

Football boots (any 

colour

) ​must be suitable for the All Weather 3G Pitch : 

plastic

 

moulds

/studs 

(

not 

Astro Turf Trainers) – please see below.

​

​
Football boot trade in scheme​
​Here at Bristol Brunel Academy, we run a football boot trade in service, if your child has outgrown their boots, they can take them to the PE department and swap them for a bigger size, depending on availability.​
All Students must have the correct boots for PE lessons on the 3G Pitch- plastic moulds or studs (not Astro Turf Trainers)​
Optional:​
Black hoodie (plain or with BBA logo)

​

BBA rugby shirt (recommended for boys, only available from Monkhouse)

​

BBA leggings – only available from Monkhouse. 

No other leggings are permitted, this is for 

quality reasons

​

BBA rain jacket (available from Monkhouse)

​
Uniform Supplier
Bristol Brunel Academy branded uniform is available to purchase from Monkhouse Schoolwear Specialists.​
Monkhouse uniform is the only uniform approved by Bristol Brunel Academy; however, most non-branded items can also be purchased at other retail outlets/supermarkets. We ask that you adhere to the uniform requirements below and in the uniform flyer when making purchases.​
Should you wish to purchase branded items, orders can be placed online via: www.monkhouse.com for click & collect, home or school delivery. Appointments can also be made online for in store fittings (please see our uniform flyer for further details).​
Where can I purchase the new uniform?​
Monkhouse Schoolwear Specialists,​
140 East Street,​
Bedminster,​
Bristol BS3 4EW​
8:30am – 5:00pm Monday to Thursday​
8:30am – 3:00pm Friday​
Tel: 0161 476 7216​
Email: [email protected]​
Jewellery
Students may wear one stud earring in each ear (no bigger than the ear lobe) and a watch, but no other jewellery is permitted.  Hooped earrings should not be worn at any time due to Health and Safety concerns.​
All forms of facial piercings are not permitted except nose piercings worn for religious purposes.  Nose piercings worn for religious purposes, however, must be accompanied with a note in the​student's planner.​
Students wearing non-regulation jewellery, except for religious purposes, will be asked to remove it with immediate effect and this will be taken and stored in the main reception until it can be collected by a Parent/Carer.
The Halo Code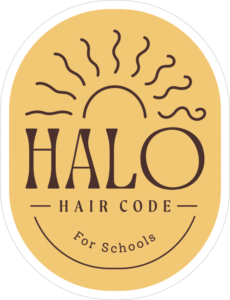 Our school champions the right of staff and students to embrace all Afro-hairstyles. We acknowledge that Afro-textured hair is an important part of our Black staff and students' racial, ethnic, cultural, and religious identities, and requires specific styling for hair health and maintenance.​
We welcome Afro-textured hair worn in all styles including, but not limited to, afros, locs, twists, braids, cornrows, fades, hair straightened through the application of heat or chemicals, weaves, wigs, headscarves, and wraps.​
At this school, we recognise and celebrate our staff and students' identities. We are a community built on an ethos of equality and respect where hair texture and style have no bearing on anyone's ability to succeed.
Equipment
Students are required to have the following equipment available to use in their lessons. Students are also required to bring a reading book with them each day.​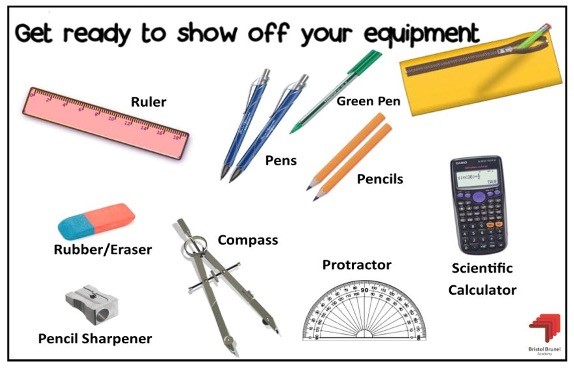 Pencil case containing:​
Black/blue writing pens

​

Green writing pen

​

Pencils

​

Pencil Sharpener

​

Rubber

​

Ruler

​
If they are unable to provide any of the equipment above, they should contact their tutor or Year Team to discuss alternative arrangements.​