Online Seminars for Parents/Carers
Please see below information from Bristol Parent Carer Forum that some parents/carers may find of interest.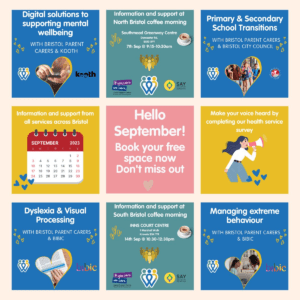 Discover a range of exciting and free sessions for information and support by Bristol Parent Carers this September. The child you care for does not need a diagnosis for you to take part. Save your spot by clicking on the image you're interested in.
Please note these sessions are run by Bristol Parent Carer Forum and not BBA, should you have any questions regarding the sessions please contact them direct or email [email protected].
Kind regards
BBA